For women only: marketing with heart and passion
April 12, 2010
Most women (and many men) complain about the same thing to me: "most Internet marketing has no heart and I know these GUYS are all about the money." This is followed by "and I HATE being called DUDE". WHERE ARE THE WOMEN? Well, I've spent the past two years getting to know a woman who has the chops and passion – and she's figured out how to be successful without being cold, alpha-male and salesy. In fact, she's made over $2m in the past year walking her walk. I just shot a video of her for you and in this video, Lisa will show you:
How to structure your content that creates hunger for more of your stuff
How to brake the rules and give away the "How" and still make money
How to create an income for your family and still have time to raise kids:
How to avoid the job trap
Here's where you can learn more about Lisa's upcoming event, "Authentic Selling Secrets".
Capability Amplifier
My Podcast with
DAN SULLIVAN
Founder of Strategic Coach®
CANCERPRENEUR
How You, Your Marriage, Family and Business Can Survive and Thrive Through Cancer Diagnosis, Treatment and Recovery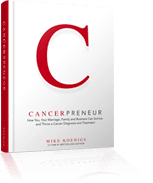 MONEY PHONE
Money Phone: How to Turn Your Smartphone into a Six Figure Money-Making Marketing Machine and Enroll Big Ticket Clients Quickly and Easily with Mobile Text and Video Marketing