Steven Sashen, The Creator of Xero Shoes
March 20, 2023
What do you get when you combine a comedian, a sprinter, a filmmaker, an archer, and an entrepreneur all in one? 
You get Steven Sashen, and this week, Gay and I had the pleasure of picking his brain.
One of the things that I love about Steven is that he is a first-principle thinker with a wild background and an absolutely fascinating story.
Today we'll delve into Steven's mindset, how he approaches problem-solving, and his guiding principle for making a living and having as much fun as possible.
We also talked about some of the Big Leaps he's made in his life, from being a professional stand-up comedian to running a software company to accidentally starting a footwear brand with his wife that has grown to over a million customers worldwide.
The thing I found most impressive about Steven was his willingness to look at any situation with a clear-eyed perspective and seek the truth. His insights and perspectives are something we can all learn from, and I think you'll enjoy hearing them.
Tune in to The Big Leap Podcast and join us for an insightful and entertaining conversation with Steven Sashen. 
LISTEN + SUBSCRIBE TO THE EPISODE HERE
Key Takeaways:
(05:08) Steven's Big Leaps and Backstory

(15:27) The inspiration behind Xero Shoes

(22:34) It's really easy to make a million dollars

(28:52) The first principles that Steven lives by

(35:45) Working as couple has been the best thing Steven has ever done 
Additional Resources:
For more episodes, follow us on your favorite podcast app!
See you on the inside!
Capability Amplifier
My Podcast with
DAN SULLIVAN
Founder of Strategic Coach®
CANCERPRENEUR
How You, Your Marriage, Family and Business Can Survive and Thrive Through Cancer Diagnosis, Treatment and Recovery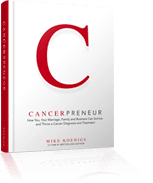 MONEY PHONE
Money Phone: How to Turn Your Smartphone into a Six Figure Money-Making Marketing Machine and Enroll Big Ticket Clients Quickly and Easily with Mobile Text and Video Marketing