I've been doing a lot of research lately on places to publish electronic books. I'm about to do some self-published tests with two electronic books I'm writing. Here are the three places I've come up with so far – have you found any others? www.LuLu.com www.bookbaby.com www.CreateSpace.com Comment, share and let me know of more!
Sony UWPV1 Lavalier Microphone, Bodypack Transmitter & Portable RX Wireless System Here's the microphone I recommend to everyone who wants a GREAT wireless system that sounds great, works with any camera that has an external microphone input AND can be used on camera, on stage and practically anywhere. They are REALLY sturdy with a super…
I love beautiful things. I like pretty graphics. I appreciate great design… …and elegance. Complex transitions, builds and animation. Pastels, hues and transition. They all help tell a story, bring emotion and life to every experience of presentation. But they have no purpose if you're going to present in front of a live audience on…
Lots of people ask me "hey, can I drop by Digital Cafe and check it out?" Well, I wish we had some way to bring everyone through the studio but we'd get nothing done! Enjoy, comment and share!
Capability Amplifier
My Podcast with
DAN SULLIVAN
Founder of Strategic Coach®
CANCERPRENEUR
How You, Your Marriage, Family and Business Can Survive and Thrive Through Cancer Diagnosis, Treatment and Recovery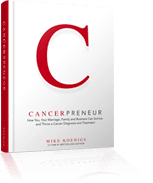 MONEY PHONE
Money Phone: How to Turn Your Smartphone into a Six Figure Money-Making Marketing Machine and Enroll Big Ticket Clients Quickly and Easily with Mobile Text and Video Marketing